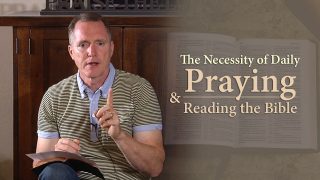 The Necessity of Daily Praying and Reading the Bible
As the believer daily renews their mind in the Scriptures, and in prayer they cast themselves upon the Lord - they will walk in purity. When you find a...
My mind being now more open and enlarged, I began to read the Holy Scriptures upon my knees, laying aside all other books and praying over, if possible, every line and word. This proved meat indeed and drink indeed to my soul. I daily received fresh life, light and power from above. I got more true knowledge from reading the Book of God in one month than I could ever have acquired from all the writings of men.
I went accordingly to my room, and locked my door, and putting the Bible on a chair, I went down on my knees at the chair. There I remained for several hours in prayer and meditation over the word of God; and I can tell you that I learned more in those three hours which I spent in this way, than I had learned for many months previously.
"You will get at the soul of Scripture when you can keep Jesus with you while you are reading." & "If the very soul of reading be the understanding of what we read, then we must in prayer call upon the Holy Ghost to unlock the secret mysteries of the inspired word."
---