Has your church ever put someone under church discipline?  Or as some word it, excommunicated them from the fellowship?  What Paul wrote to those at Corinth, is something many need to hear today, 1 Corinthians 5:11 – But now I am writing to you not to associate with anyone who bears the name of brother if he is guilty of sexual immorality or greed, or is an idolater, reviler, drunkard, or swindler—not even to eat with such a one. 
Where should you start in studying this topic?  Charles Leiter's sermon on Biblical Church Discipline gives a great overview, and Tim's sermon The Love Behind Church Discipline helps show the heart behind church discipline.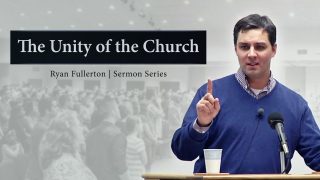 Preserving Unity in Holiness (Part 3)
The vital role that church discipline plays in guarding the unity of the church.