Assurance of salvation, it's a matter many wrestle with and have questions in regards to. Many people are asking themselves, "How can I know that I am a Christian?" The follow resources seek to deal with this question and others.
Can a Christian Even Have Assurance and Know They Are Saved?
The Bible teaches that you can know you're a Christian based on 1) believing God's Word, 2) your walk and 3) the witness of the Holy Spirit. Video:  Assurance of Salvation, Having Assurance of Salvation
Do I Have True or False Assurance?
What is the difference between faith and assurance? Can a person have one without the other? This is one topic that multitudes struggle with and are plagued by. This is also one of the weightiest subjects in the whole Bible. How can we know if we have a true or false assurance? Video: Do I Have True or False Assurance?
What Are Methods in Which Satan Attacks the Believer's Assurance?
The devil has many devices to use against the Christian and one primary device is to attack our assurance. In this study, Tim considers some of the methods the devil uses to attack our confidence that we are a believer and what some of the weapons are that we can use to overcome them.
1. Satan tries to convince you that believers cannot truly know that they are saved.
2. Satan tries to push you to excess.
3. Satan tries to convince you that you are not saved because of past sin.
4. Satan tries to condemn you because your experience doesn't line up with others.
5. Satan tries to strip you of assurance when you fall into sin.
6. Satan says something is a sin that is not and seeks to strip you of your peace.
7. Satan tries to convince you that you've committed the unpardonable sin.
(Taken from the video: Satan's Methods of Attacking the Christian's Assurance)
What is "Gospel-Driven Assurance"?
"I don't have to look at my performance every day to secure such assurance. I look to Christ and Christ alone. It is surely sufficient for me. It is surely sufficient for me, if the blood of Christ is sufficient for God, it is surely sufficient for me. That's good news. That ought to have you dancing in the aisles." Video: Gospel Driven Assurance
What About Peter, After He Denied Christ?
When the true Christian falls, they will turn again, and when it's all over and the Lord gets you to where He wants you, you will be stronger than you were before. Video: An In Depth Look at Peter's Stumbling: Peter
Am I Saved? I Don't Feel A Certain Way
Regardless of how we feel, if we have faith in what God says and trust it, we will not fall, we will not fail. The just shall live by faith not by feelings. Many Christians are too focused on having some subjective feeling and making an idol of that and it strips them of confidence that they are the Lord's. Video: The Just Shall Live by Faith Not by Feelings
What About Romans 8:16 and the Spirit's Witness?
How does the Spirit bear witness that we are children of God? Video: How Does The Spirit Bear Witness That We Are Children of God?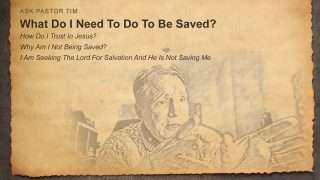 What Do I Need To Do To Be Saved?
What do I need to do to be saved? How do I trust in Jesus? How do I know if I am believing in Him? Why am I not being saved?