Repentance is foundational – "the foundation of repentance," Hebrews 6:1b – yet, controversial.  Is it necessary for salvation or not?  Some would argue that it isn't. Yet there is no little emphasis in the Scriptures on repentance.  Sometimes faith is not even mentioned, but rather repentance is set out as the very condition for conversion and salvation. The follow resources seek to explain what repentance is.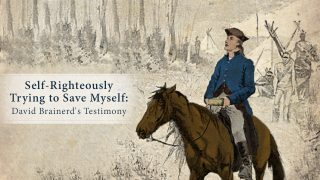 Self-Righteously Trying to Save Myself: David Brainerd's Testimony
When reading the Life and Diary of David Brainerd I was struck by how self-righteous Brainerd was as a lost person prior to being saved. Many of the...
Today some say that to demand repentance by sinners is to demand works for salvation. But if preaching repentance means preaching works, then lay the charge at John's feet and Jesus' feet as well. Then go ahead and make the same charge toward Peter and Paul.



The worst sin of all is the false thinking about God of which the natural man is so terribly guilty.
---