Repentance is foundational – "the foundation of repentance," Hebrews 6:1b – yet, controversial.  Is it necessary for salvation or not?  Some would argue that it isn't. Yet there is no little emphasis in the Scriptures on repentance.  Sometimes faith is not even mentioned, but rather repentance is set out as the very condition for conversion and salvation. The follow resources seek to explain what repentance is.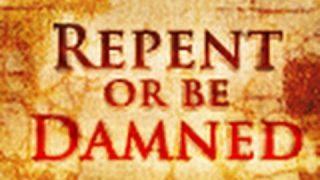 Repent or be More Damned than Sodom
65 Minute Video Sermon on Matthew 11:20-24 | Tim talks about how people who have been exposed to the gospel and reject it will be more damned in hell than those from Sodom. Matthew 11:20 Then he began to denounce the cities where most of his mighty works had been done, because they did not repent. 21 "Woe to you, Chorazin! Woe to you, Bethsaida! For if the mighty works done in you had been done in Tyre and Sidon, they would have repented long ago in sackcloth and ashes. Mat 11:22 But I tell you, it will be more bearable on the day of judgment for Tyre and Sidon than for you. 23 And you, Capernaum, will you be exalted to heaven? You will be brought down to Hades. For if the mighty works done in you had been done in Sodom, it would have remained until this day. 24 But I tell you that it will be more tolerable on the day of judgment for the land of Sodom than for you."
Today some say that to demand repentance by sinners is to demand works for salvation. But if preaching repentance means preaching works, then lay the charge at John's feet and Jesus' feet as well. Then go ahead and make the same charge toward Peter and Paul.



The worst sin of all is the false thinking about God of which the natural man is so terribly guilty.
---