Repentance is foundational – "the foundation of repentance," Hebrews 6:1b – yet, controversial.  Is it necessary for salvation or not?  Some would argue that it isn't. Yet there is no little emphasis in the Scriptures on repentance.  Sometimes faith is not even mentioned, but rather repentance is set out as the very condition for conversion and salvation. The follow resources seek to explain what repentance is.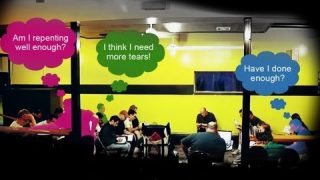 Stop Trying to Save Yourself
Come, everyone who thirsts, come to the waters; and he who has no money, come, buy and eat! Come, buy wine and milk without money and without price. 2 Why do you spend your money for that which is not bread, and your labor for that which does not satisfy? Listen diligently to me, and eat what is good, and delight yourselves in rich food. - Isaiah 55:1
Today some say that to demand repentance by sinners is to demand works for salvation. But if preaching repentance means preaching works, then lay the charge at John's feet and Jesus' feet as well. Then go ahead and make the same charge toward Peter and Paul.



The worst sin of all is the false thinking about God of which the natural man is so terribly guilty.
---