When a man really prays it is not a question whether God will hear him or not, He must hear him; not because there is any compulsion in the prayer, but there is a sweet and blessed compulsion in the promise. God has promised to hear prayer and He will perform His promise. As he is the most high and true God, He cannot deny himself. Oh! to think of this; that you, a puny creature, may stand here and speak to God, and through God may move all the worlds. – C.H. Spurgeon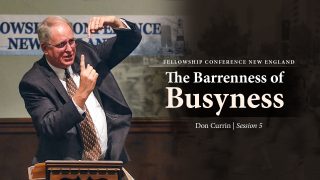 The Barrenness of Busyness
King Solomon was an example of someone who had a fatal downward spiral in his walk with God. It didn't happen overnight. It was a slow process of compromise.



Satan, the Hinderer, may build a barrier about us, but he can never roof us in, so that we cannot look up.
George Muller was conscious of being too busy to pray as he ought. His outward action was too constant for inward reflection, and he saw that there was risk of losing peace and power and that activity even in the most sacred sphere must not be so absorbing as to prevent holy meditation on the Word and fervent supplication. The Lord said first to Elijah, "Go, hide thyself"; then, "Go, show thyself." He who does not first hide himself in the secret place to be alone with God, is unfit to show himself in the public place to move among men.
You and I, in the last analysis, are what we are when we are alone. I confess that in a sense it is easier for me to preach from a pulpit than it is to sit alone in my study; it is probably easier for more people to enjoy the presence of our Lord in the company of other Christians than when alone. Paul would have us enjoy what he himself was enjoying. He had a love for the Lord that rendered him independent of all that was happening.
When a man is speaking to God, he is at his very acme. It is the highest activity of the human soul, and therefore it is at the same time the ultimate test of a man's true spiritual condition. There is nothing that tells the truth about us as Christian people so much as our prayer life. Everything we do in the Christian life is easier than prayer.
Some women spend hours preparing physically for church. What would happen if we all spent the same amount of time preparing spiritually for church with prayer and meditation?




If I had spent more time alone with God rather than preaching and planning how I was going to change the world, I would be a very different man.
When a man really prays it is not a question whether God will hear him or not, He must hear him; not because there is any compulsion in the prayer, but there is a sweet and blessed compulsion in the promise. God has promised to hear prayer and He will perform His promise. As he is the most high and true God, He cannot deny himself. Oh! to think of this; that you, a puny creature, may stand here and speak to God, and through God may move all the worlds.
Prayer is a sincere, sensible, affectionate pouring out of the soul to God, through Christ, in the strength and assistance of the Spirit, for such things as God has promised.
When we go to God by prayer, the devil knows we go to fetch strength against him, and therefore he opposeth us all he can.
If I could hear Christ praying for me in the next room, I would not fear a million enemies. Yet distance makes no difference. He is praying for me.
---