Pride & humility is a topic of utmost importance for Proverbs 16:18  says, "Pride goes before destruction…" and destruction is that which must be avoided at all costs. Therefore pride must be avoided at all costs. We must put on the mind of our Lord Jesus Christ, who was humbly and lowly.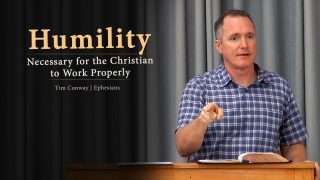 Humility Necessary for the Christian to Work Properly
The Bible urges us to walk worthy of God's calling; one of the characteristics of a walk worthy of our calling is humility. The Bible also calls members...

One of the awful things about pride is that it deceives us; we may think we are serving God and others, but in reality we are serving ourselves only.

Pierson in regards to George Müller: To one who asked him the secret of his service he said: "There was a day when I died, utterly died;" and as he spoke, he bent lower and lower until he almost touched the floor–"died to George Müller, his opinions, preferences, tastes and will–died to the world, its approval or censure-died to the approval or blame even of my brethren and friends – and since then I have studied only to show myself approved unto God."
We have nothing but what we have received from God. If we see any truth or if we are kept from any error, it is sheer grace, for any of us is entirely vulnerable to making a regrettable blot.
One by one, pare and prune from your life every single crutch that has an "I" attached to it. When you become weak enough and small enough and nothing enough, all the strength and power of the Lord Jesus will be made perfect in you by your utter dependence and trust in Him.
Spiritual pride takes great notice of opposition and injuries that are received, and is often speaking of them. Humility disposes a person rather to be, like his blessed Lord when reviled, dumb, not opening his mouth. The more clamorous and furious the world is against him, the more silent and still will he be.




Humility leads the Christian to treat others that are in fault with meekness and gentleness, as Christ did His disciples, and particularly Peter, when he had shamefully denied Him.
The pride of preachers of the Word, in wanting a name for themselves alive and after their death, is the cause of attracting men to themselves, rather than to the Lord of the harvest. Men are so prone to make idols of one another… and ordinary people, when they hear a good orator, and have but a little taste of his doctrine, are ready to set him up as a Herod of old, in the place of God; then his heart is so taken with this promotion, and with the people's allegiance, that he begins to boast of, and flaunt this new name which he wishes to perpetuate, and which others readily ascribe to him. This new sect both he and they conclude is better than all those old sleepy sects whose names have rusted.
My printed journals and sermons have been blessed in an uncommon manner. I am only afraid lest people should idolize the instrument and not look enough to the glorious Jesus, in whom alone I desire to glory.
I would be very slow to try to be a public figure beyond my church. If God has a public role for you beyond your church, that will happen without your design. If you strategize for that, it will probably have too much vanity in it to be of great service.
I have found myself exercised sorely with some particular things that I thought myself most of all freed from. And thus I have ever found it, when I have thought the battle was over and the conquest gained and so let down my watch, the enemy has risen up and done me the greatest injury.
Pride in the preacher?… What's the problem? First, unbelief and subtle insecurity cause him to promote himself. He is afraid someone else will get the credit and the honor and threaten his position. But the Christian minister ought to ask himself, "Has God put me here or not?" If so, he can afford to take the low position, for he is secure with God.
---