Let it be stated first that Christian parents are ultimately cast upon the grace of God.  Good men, like Samuel, may not see their children walking in righteousness (1 Samuel 8:1f).  Good Hezekiah's Manasseh was extremely vile and hurtful before repenting at last.  Conversely, many are the bad men whose sons were graciously snatched out of the fire and made sons of God. – Bob Jennings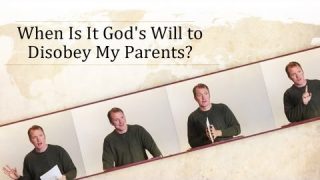 When Is It God's Will to Disobey My Parents?
If your a young person you've probably asked the question... "Is it God's will if I move here for this church...marry this person... get this job." How can you discern God's will? Also, how can you discern if it is God's will if your parents are against what your will is? When do you disobey your parents will in order to obey God's will?
Colossians 3:21 Fathers, do not provoke your children, lest they become discouraged.
Proverbs 13:24 Whoever spares the rod hates his son, but he who loves him is diligent to discipline him.
Proverbs 22:15 Folly is bound up in the heart of a child, but the rod of discipline drives it far from him.
Proverbs 23:13-14 Do not withhold discipline from a child; if you strike him with a rod, he will not die. If you strike him with the rod, you will save his soul from Sheol.
With countless parenting books out there, here are a few we have found most helpful:
---