References to suicide from reading:
"Throughout these days Grimshaw attempted to carry on his ministry, but on one Sunday his depression led to such a measure of debility, that he could hardly mount the steps into his pulpit. His robust health was failing beneath the mental and spiritual strain. Symptoms, real and imaginary, began to manifest themselves. It scarcely comes as a surprise to learn that after Grimshaw had been called out on two occasions to aid parishioners who had attempted to suicide, the final strategy in Satan's armoury was to lure him on to end his own sorrows in a similar fashion." (pg. 25 – William Grimshaw Of Haworth by Faith Cook)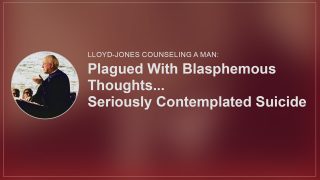 Plagued With Blasphemous & Suicidal Thoughts – Lloyd-Jones' Counsel
I seriously contemplated suicide. It was at this juncture that I asked Doctor Martyn Lloyd-Jones, for help.