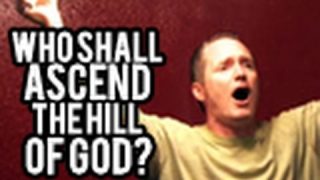 Who Shall Ascend the Hill of God
This is a Bible study where Tim talks about Duncan Campbell and the Hebrides island revivals. Are you hands clean? Is your heart pure? For you to ascend the hill? Psalm 24:3-4 - Who shall ascend the hill of the LORD? And who shall stand in his holy place? He who has clean hands and a pure heart, who does not lift up his soul to what is false and does not swear deceitfully.
The nonsense of slaying a congregation in the Spirit by the breath of one's mouth and the sweep of one's coat may have something to do with crowd psychology but little with New Testament unction.




Throughout the long history of the Christian church one of Satan's most successful tactics has been the use of extremes. This is especially true regarding the work of the Holy Spirit. No sooner has one branch of professing Christendom been led into an extreme, unbiblical, or even fanatical position regarding the work of the Holy Spirit, than another branch reacts with an equally extreme and unbiblical opposing position.
---