There are things a book can do that a missionary cannot. A book can find its way into the inner chambers of a mosque or palace or harem. It is available at any moment of leisure and can speak without a foreign accent. It can present facts without personal antagonism and develop a theme without interruption. It suffers no sickness or fatigue, and enjoys a lifespan much longer than its author's three-score years and ten. – Robert Bernard Dann, pg 320 of Father of Faith Missions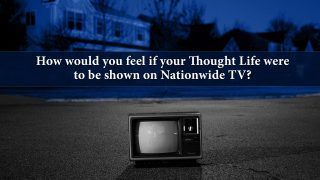 How would you feel if your Thought Life were to be shown on Nationwide TV?
What if someone told you that your every thought from the day you were born has been recorded and will be shown tonight on nationwide TV?