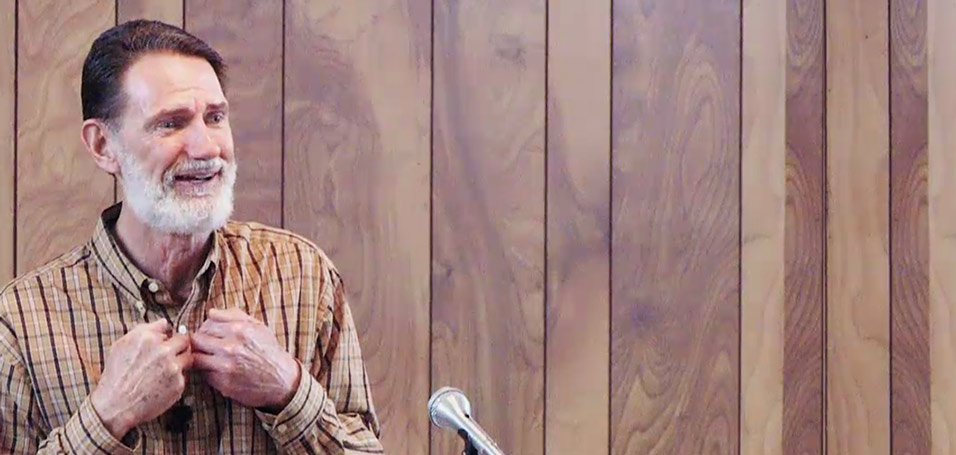 The following 150+ sermons were preached over the years, mostly at Highway M Chapel, where Bob was one of the pastors. He died of cancer in 2012 and went to be with Christ.
These sermons can also be listened to through our Mobile App (Apple / Android) under the tab Speakers -> Bob Jennings.
Click on a sermon title below to download the MP3 to your device.

| Name | Size | Listen |
| --- | --- | --- |
| A Meditation on Meditations | 19.7 MB | Your browser does not support the audio element. |
| Abstain From Sexual Immorality | 10.0 MB | Your browser does not support the audio element. |
| All These Died In Faith, Confessing | 28.4 MB | Your browser does not support the audio element. |
| Always, Without Ceasing, Everything | 14.3 MB | Your browser does not support the audio element. |
| Appreciate and Esteem | 12.9 MB | Your browser does not support the audio element. |
| Asking in Prayer | 19.1 MB | Your browser does not support the audio element. |
| Assurance: You Will Know | 25.9 MB | Your browser does not support the audio element. |
| Be An Example in Speech | 23.1 MB | Your browser does not support the audio element. |
| Be On the Alert | 16.9 MB | Your browser does not support the audio element. |
| Because God Has Chosen You | 22.8 MB | Your browser does not support the audio element. |
| Besetting Sin | 0.0 B | Your browser does not support the audio element. |
| Blessed Are Those Who Die In the Lord | 19.8 MB | Your browser does not support the audio element. |
| Brethren, Pray For Us | 12.4 MB | Your browser does not support the audio element. |
| But These Have Been Written | 10.1 MB | Your browser does not support the audio element. |
| Children Obey and Honor Your Parents | 20.1 MB | Your browser does not support the audio element. |
| Christ Before Annas | 14.7 MB | Your browser does not support the audio element. |
| Christ in the Garden | 13.9 MB | Your browser does not support the audio element. |
| Christ's High Priestly Prayer | 20.6 MB | Your browser does not support the audio element. |
| Christ's Legacy of Peace | 17.1 MB | Your browser does not support the audio element. |
| Christ's New Commandment | 18.6 MB | Your browser does not support the audio element. |
| Christian's Facing Fear | 21.6 MB | Your browser does not support the audio element. |
| Come and Have Breakfast | 11.1 MB | Your browser does not support the audio element. |
| Comfort One Another With These Words | 13.3 MB | Your browser does not support the audio element. |
| Conquering Lust | 23.4 MB | Your browser does not support the audio element. |
| Cross Bearing | 17.3 MB | Your browser does not support the audio element. |
| Crossing the Sea Again | 15.2 MB | Your browser does not support the audio element. |
| David's Great Sin | 26.3 MB | Your browser does not support the audio element. |
| Death Better Than Birth | 24.4 MB | Your browser does not support the audio element. |
| Degrees of Reward | 12.6 MB | Your browser does not support the audio element. |
| Do Not Despise Prophecies | 12.6 MB | Your browser does not support the audio element. |
| Do Not Love the World | 23.5 MB | Your browser does not support the audio element. |
| Do Not Quench the Spirit | 19.2 MB | Your browser does not support the audio element. |
| Don't Be Deceived | 22.8 MB | Your browser does not support the audio element. |
| Don't Judge, Do Judge | 11.7 MB | Your browser does not support the audio element. |
| Dying to the Glory of God | 14.1 MB | Your browser does not support the audio element. |
| Eager To See Your Face | 8.1 MB | Your browser does not support the audio element. |
| Elders, Overseers, and Shepherds | 16.8 MB | Your browser does not support the audio element. |
| Entrusted With the Gospel | 10.1 MB | Your browser does not support the audio element. |
| Evidences of Election (Part 1) | 13.1 MB | Your browser does not support the audio element. |
| Evidences of Election (Part 2) | 25.7 MB | Your browser does not support the audio element. |
| Faithfulness | 21.6 MB | Your browser does not support the audio element. |
| False Shepherds | 18.5 MB | Your browser does not support the audio element. |
| Features of the New Covenant | 25.1 MB | Your browser does not support the audio element. |
| Few Workers: Harvesters Wanted | 9.5 MB | Your browser does not support the audio element. |
| Foot Washing | 19.8 MB | Your browser does not support the audio element. |
| Glories of the Lord Jesus Christ | 17.7 MB | Your browser does not support the audio element. |
| Glorify God - Why, Where | 8.6 MB | Your browser does not support the audio element. |
| God Moved by Entreaty | 14.7 MB | Your browser does not support the audio element. |
| God's Righteous, Judgement | 12.0 MB | Your browser does not support the audio element. |
| Greater Workers | 16.5 MB | Your browser does not support the audio element. |
| Greatness in the Kingdom | 19.2 MB | Your browser does not support the audio element. |
| Guidance - Acquiring and Giving Counsel | 28.7 MB | Your browser does not support the audio element. |
| Have This Letter Read | 9.8 MB | Your browser does not support the audio element. |
| He Hid Himself | 20.9 MB | Your browser does not support the audio element. |
| He It Is Who Loves Me | 16.2 MB | Your browser does not support the audio element. |
| He Loved Them | 17.0 MB | Your browser does not support the audio element. |
| He Will Convict Them | 18.5 MB | Your browser does not support the audio element. |
| He Will Teach You | 20.8 MB | Your browser does not support the audio element. |
| Hold to the Traditions | 7.0 MB | Your browser does not support the audio element. |
| Holy is the Lord | 20.8 MB | Your browser does not support the audio element. |
| Honor the Son | 14.0 MB | Your browser does not support the audio element. |
| How Men Die in Their Sins | 18.1 MB | Your browser does not support the audio element. |
| How Shall We Sin? | 20.8 MB | Your browser does not support the audio element. |
| How They Overcame the Devil | 29.0 MB | Your browser does not support the audio element. |
| I and the Father Are One | 16.6 MB | Your browser does not support the audio element. |
| I Have Told You Before | 12.3 MB | Your browser does not support the audio element. |
| I Press On | 25.0 MB | Your browser does not support the audio element. |
| If Any Man Thirsts | 12.5 MB | Your browser does not support the audio element. |
| If I Be Lifted Up | 18.9 MB | Your browser does not support the audio element. |
| If You Continue | 18.6 MB | Your browser does not support the audio element. |
| Inscription on the Cross | 16.2 MB | Your browser does not support the audio element. |
| It Is Finished | 6.1 MB | Your browser does not support the audio element. |
| Jesus Enters Jerusalem | 13.5 MB | Your browser does not support the audio element. |
| Joseph of Arimathea | 14.3 MB | Your browser does not support the audio element. |
| Keep Seeking | 21.2 MB | Your browser does not support the audio element. |
| Keep Them | 20.2 MB | Your browser does not support the audio element. |
| Keys to Victory Over Sexual Sin | 3.7 MB | Your browser does not support the audio element. |
| Let Not Your Heart Be Troubled | 14.4 MB | Your browser does not support the audio element. |
| Light of the World | 17.3 MB | Your browser does not support the audio element. |
| Lord, Direct My Heart | 11.8 MB | Your browser does not support the audio element. |
| Loved Us and Given Us | 9.5 MB | Your browser does not support the audio element. |
| Mary, Why Are You Weeping? | 16.2 MB | Your browser does not support the audio element. |
| May the Lord Cause You to Increase | 10.4 MB | Your browser does not support the audio element. |
| My Judgement is Just | 15.3 MB | Your browser does not support the audio element. |
| Now is the Son of Man Glorified | 6.3 MB | Your browser does not support the audio element. |
| One of You Will Betray Me | 15.3 MB | Your browser does not support the audio element. |
| Overcoming and Avoiding Depression | 22.9 MB | Your browser does not support the audio element. |
| Perfecting Holiness | 20.6 MB | Your browser does not support the audio element. |
| Peter's Denial | 15.0 MB | Your browser does not support the audio element. |
| Peter's Exhortation to Elders | 21.1 MB | Your browser does not support the audio element. |
| Peter's Fall and Recovery | 22.7 MB | Your browser does not support the audio element. |
| Pursuit of Joy | 21.2 MB | Your browser does not support the audio element. |
| Raising of Lazarus | 19.6 MB | Your browser does not support the audio element. |
| Remember Jesus Christ | 15.3 MB | Your browser does not support the audio element. |
| Remember Lot | 21.3 MB | Your browser does not support the audio element. |
| Remember Lot's Wife | 20.5 MB | Your browser does not support the audio element. |
| Remember Your Creator | 18.5 MB | Your browser does not support the audio element. |
| Repent and Be Baptized | 18.5 MB | Your browser does not support the audio element. |
| Repetance | 20.9 MB | Your browser does not support the audio element. |
| Sanctify Them | 21.8 MB | Your browser does not support the audio element. |
| Second Coming #2 - Events at the Parousia | 11.3 MB | Your browser does not support the audio element. |
| Second Coming #3 - The Millennium | 12.2 MB | Your browser does not support the audio element. |
| Second Coming #4 - Apostasy, Man of Lawlessness | 15.3 MB | Your browser does not support the audio element. |
| Second Coming #5 - The Love of the Truth | 11.9 MB | Your browser does not support the audio element. |
| Second Coming #6 - Because God Has Chosen You | 11.6 MB | Your browser does not support the audio element. |
| Security of the Sheep | 15.8 MB | Your browser does not support the audio element. |
| Show Us The Father | 14.3 MB | Your browser does not support the audio element. |
| Stewards of the Mysteries of God | 4.0 MB | Your browser does not support the audio element. |
| That They May Be One | 18.7 MB | Your browser does not support the audio element. |
| That They May Behold My Glory | 16.4 MB | Your browser does not support the audio element. |
| The Bread of Life | 17.1 MB | Your browser does not support the audio element. |
| The Christian Greeting | 6.2 MB | Your browser does not support the audio element. |
| The Cup | 16.5 MB | Your browser does not support the audio element. |
| The Day of the Lord | 12.4 MB | Your browser does not support the audio element. |
| The Deacon | 13.7 MB | Your browser does not support the audio element. |
| The Devil Has Nothing On Me | 13.4 MB | Your browser does not support the audio element. |
| The Devil Seeks Someone to Devour | 28.7 MB | Your browser does not support the audio element. |
| The Faithful Protection of God | 20.6 MB | Your browser does not support the audio element. |
| The Glorious Gospel of the Blessed God | 10.6 MB | Your browser does not support the audio element. |
| The Goal of Our Instruction | 11.0 MB | Your browser does not support the audio element. |
| The Good Shepherd | 23.9 MB | Your browser does not support the audio element. |
| The Gospel of the Glory of Christ | 12.5 MB | Your browser does not support the audio element. |
| The Heavenly Race | 27.6 MB | Your browser does not support the audio element. |
| The Lawful Use of the Law | 13.0 MB | Your browser does not support the audio element. |
| The Lord's Good Confession | 16.1 MB | Your browser does not support the audio element. |
| The Misjudging of Jesus | 17.5 MB | Your browser does not support the audio element. |
| The Post-Resurrection Assembly | 9.1 MB | Your browser does not support the audio element. |
| The Propitiation for Our Sins | 27.4 MB | Your browser does not support the audio element. |
| The Public Prayer Meeting (Acts 4) | 20.8 MB | Your browser does not support the audio element. |
| The Sin of Omission | 19.9 MB | Your browser does not support the audio element. |
| The Thief's Death Bed Conversion | 19.8 MB | Your browser does not support the audio element. |
| The Vine and The Branches | 19.6 MB | Your browser does not support the audio element. |
| The Way This Man Speaks | 16.5 MB | Your browser does not support the audio element. |
| The Way, The Truth, the Life | 7.8 MB | Your browser does not support the audio element. |
| The Woman At The Well | 17.9 MB | Your browser does not support the audio element. |
| The Work of Christ | 24.6 MB | Your browser does not support the audio element. |
| These Afflictions | 15.0 MB | Your browser does not support the audio element. |
| They Hated Me Without Cause | 21.6 MB | Your browser does not support the audio element. |
| To Stand Before the Son of Man | 11.4 MB | Your browser does not support the audio element. |
| Unclothing of Christ | 13.7 MB | Your browser does not support the audio element. |
| Useful to the Lord in Winning Souls | 3.6 MB | Your browser does not support the audio element. |
| Useful to the Master | 24.8 MB | Your browser does not support the audio element. |
| We Command You To Work | 18.7 MB | Your browser does not support the audio element. |
| We Live If You Stand | 7.7 MB | Your browser does not support the audio element. |
| We Must Work the Works | 21.5 MB | Your browser does not support the audio element. |
| We Urge You, Brethren | 8.1 MB | Your browser does not support the audio element. |
| Who Do You Make Yourself Out to Be | 14.2 MB | Your browser does not support the audio element. |
| Whoever Believes in Christ is Not Condemned | 17.0 MB | Your browser does not support the audio element. |
| Why The Waste? | 22.9 MB | Your browser does not support the audio element. |
| With Regard to the Coming of the Lord | 13.1 MB | Your browser does not support the audio element. |
| Without Me You Can Do Nothing | 17.8 MB | Your browser does not support the audio element. |
| Witness of Christ | 20.1 MB | Your browser does not support the audio element. |
| Woman, Behold Your Son | 12.6 MB | Your browser does not support the audio element. |
| Women's Adornment | 13.4 MB | Your browser does not support the audio element. |
| Worthy is the Lamb | 10.8 MB | Your browser does not support the audio element. |
| You Became an Example | 7.4 MB | Your browser does not support the audio element. |
| You Follow Me | 15.0 MB | Your browser does not support the audio element. |
| You Must Be Born Again | 12.6 MB | Your browser does not support the audio element. |
| Your Adversary, The Devil | 26.5 MB | Your browser does not support the audio element. |
| Your Ambition - Quiet Work | 11.9 MB | Your browser does not support the audio element. |
| Your Faith Has Gone Forth | 8.6 MB | Your browser does not support the audio element. |
| Your Father The Devil | 18.3 MB | Your browser does not support the audio element. |
Add this code in order to set how many show: num="200″