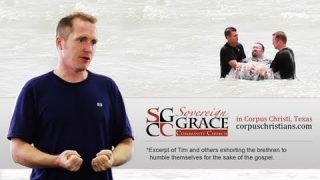 Maintain Unity for the Sake of the Gospel
Tim Conway and other brethren from GCCSATX exhort the church in Corpus Christi to stand firm in unity together for the sake of the gospel. http://corpuschristians.com
You ought never to immediately send a harsh, rebuking letter or text message to someone, especially if you have written it in the heat of emotion. Let the message sit overnight. Let your passions cool, and then read the message again before you send it. This practice will save you much heartache that might otherwise spring from a hasty rashness.
To have fellowship with men who deny the truth is to deny the truth by implying that the truth does not matter.
There are people who love those who agree with them and admire them, but have no time for those who oppose and dislike them. A Christian's love must be universal!
Church unity comes from corporate humility.
---